Solidarity and global connectedness shone through at this virtual event hosted by the Yorkshire Urban and Rural Teaching Partnership.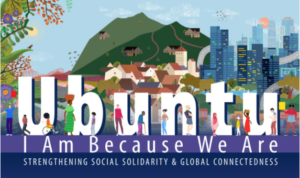 Each year social workers across the world stand together to mark World Social Work Day and focus on a Global Social Work Agenda. This year was no exception, despite the global pandemic, social workers across the world celebrated Ubuntu: I am because we are, a concept and philosophy that aligns with the ethics of social work itself.
'Ubuntu is a powerful message on the need for solidarity at all levels: within communities, societies and globally. It is a message that all people are interconnected and that our future is dependent on recognizing all peoples involvement in co-building a sustainable, fair and socially just future.'

(International Federation of Social Workers)
Over 200 social workers and students from across the Teaching Partnership attended this virtual event which also focused on wellbeing and resilience.  The event was planned and delivered by the Teaching Partnerships 'Placements Workstream' group, consisting of Practice Educator Consultants and Teaching & Learning Leads from each local authority, along with representatives of the universities of Huddersfield and York and was the only annual event of it's type in the area.
This years event also celebrated the first 'Practice Educator of the Year Awards' with a large number of nominations from students across the region.
Speakers
The event commenced with a keynote speech on 'Practice Educator Wellbeing' by Kate Collier, Selfcare Psychology.  Kate is the co-author '52 Acts of Self Care for Social Workers' and in early 2020 developed this idea further into the online 'Covid-19 Pandemic Frontline Keyworker Self Care Acts' as a free resource to support practitioners.
Kate has a special interest in and passion for early intervention in wellbeing through education for social care and health professionals and during her talk shared her expertise on self-care for Practice Educators and supporting student's in placement.
Social Resilience and social work practice were the focus of the event's next talk delivered by Dr Tom Considine, Senior Lecturer Social Work, University of Huddersfield.  He discussed how resilience has emerged as the modern solution to the current challenges affecting the world and referred to his research with student social work practitioners and practice educators that promotes a social model of resilience.
Professor Martin Webber, University of York then introduced the concept of 'Ubuntu: I am because we are' and it's relevance to community-oriented social work, shared decision making and equality.
The event was a huge success with feedback showing the delegates found it a really interesting and thought-provoking event.
Watch the video of the days events
Resources and Links
The following resources and links were mentioned or are related to presentations on the day:
Self Care Acts for Front Line Workers
Video Interviews on How Practice Has Changed as a Result of Covid-19
Professional Quality of Life Scale