On Friday 22nd February, over 40 representatives from across the Partnership met to celebrate our achievements since grant funding was awarded in 2017, and reflect on future aspirations. We were also joined by colleagues from the neighbouring Leeds & Wakefield Social Work Teaching Partnership and Claire Langron from the Social Work Reform Unit within the Department of Education.
The morning session began with a welcome from the Partnership Chair, Martin Kelly – Assistant Director at North Yorkshire County Council, followed by a presentation on our TP Journey To Date. Dave Bosworth, Director of Social Work Education at the University of Sheffield shared learning from the South Yorkshire Teaching Partnership before Professor Brid Featherstone, from the University of Huddersfield, challenged the audience to consider new opportunities and ideas for the future of social work education.
"I particular liked the presentation by Professor Brid Featherstone. I thought it fitted in well with the theme of relationships for International Social Work Day. The research she selected was applicable to our practice."

"I really enjoyed learning from others who were further ahead in their journey/pilot. Sheffield presentation was very thought provoking and I am particularly interested in the PE level 3!"

Delegate Feedback
Practice Educator Consultants facilitated discussions on how it feels to work in partnership and encouraged attendees to consider what remains challenging. Groups were then asked to discuss and agree one partnership priority for the next 12 months.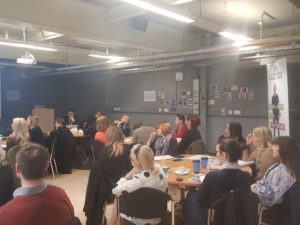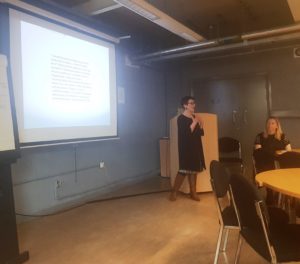 In the afternoon delegates attended themed workshops which allowed them to reflect on what has gone well and agree priority activities in these areas for the next 12 months. Themes included:
Research informed practice and practice informed research;
Academic Programmes; and
Placements.
The outputs from the day are being used to develop the Partnership's activity plan for 2019/20; a post-event evaluation survey has been sent out to capture feedback and help inform future development days.
Thank you to everyone who attended and helped make the day such a success!
"Excellent day…really enjoyed every second of it and I am now even more excited as to what the next 12 months has to bring!"

"Amazing day and resulted in me having lots of ideas that are tangible. The networking opportunity is so rewarding as it helps you shape how you will consider implementing/embedding projects/tasks."

Delegate Feedback