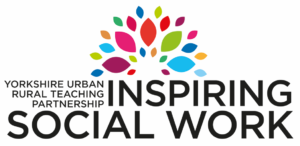 This seminar brought to you by Yorkshire Urban and Rural Teaching Partnership and South West Yorkshire Partnership NHS Foundation Trust promotes communication and knowledge sharing between academics and social work and social care professionals.
There are limited places available on this session.
Overview
At the end of this session practitioners will be able to:
Have an understanding of the Social Work England Standards for Social Work Education and refresh understanding of Quality Assurance in Practice Learning (QAPL) Guidance.
Reflect and consider how we can support training and newly qualified Social Workers to develop emotional intelligence and professional resilience and to empower them to ask for help if they need it.  As well as how we can proactively support the well-being of Social Workers.
To reflect on how we can support Social Workers to be effective in their consideration of diversity and ensure that cultural curiosity is a meaningful part of their practice that improves the experience of service users.
Understand what a final placement SWIT and NQSW should be demonstrating in terms of the KSS and PCF and how this looks in practice.
Speakers
DCC Interactive 

As an organisation our central principle is the promotion of social approaches and social work values, as a means of maximising the effectiveness of social care services and achieving positive outcomes for individuals, families and communities.
We have a foundation of direct and current social work practice and we uphold the following core values in all our activities:
Valuing diversity

Questioning own prejudices

Maintaining probity and integrity

Preventing and challenging discrimination

Reflecting on own practice 

Working inclusively.
How to book
Before booking please check with your Line Manager/Workforce Development team to ensure that your application follows any local policy and procedures.
Delivery Method
This session will be delivered virtually.  Participants who have booked will be sent the event link during the week before the session.