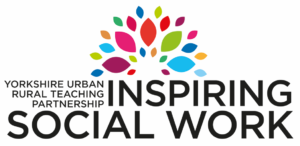 We want to strengthen people with lived experience's involvement within the Teaching Partnership and we need everyone's ideas!
The event will be open to all members of the Teaching Partnership; professionals are asked to extend the invitation to any individuals with lived experience who may be interested in being involved in the taught social work programs at the University of York and the University of Huddersfield.
This seminar, brought to you by Yorkshire and Rural Teaching Partnership and University of York, promotes communication and knowledge sharing between academics, social work and social care professionals and service users.
This seminar will be led by people with lived experience and has 3 overall aims:-
Discuss and celebrate the contribution of people with lived experience (PLE) to the work of the Teaching Partnership
Share best practice in relation to PLE involvement in both practice and social work teaching programmes during lockdown: what new resources and approaches were created and what do we want to keep now that restrictions are eased?
Encourage recruitment of service users and carers to both universities' teaching programs
During the afternoon session two presentations will be run concurrently.  Please follow the 'How to book' process to select one of the following sessions
A.   Breaking down attitudinal barriers faced by disabled students on placement, with testimony from former social work students (led by Melissa Crowland and Niki Somaiya)
B.   Maintaining co-production values in a post-lockdown, online environment (led by Rob Moriarty)
Please sign up to the event by 5 pm on Tuesday, June 21st.  This is to allow us to pre-allocate attenders into discussion groups.
Facilitator
Ed Robson has been a lecturer in Social Work at the University of York since 2014.  Prior to this he worked in a range of social work areas, including mental health, homelessness and teenage pregnancy.  He has a keen interest in enhancing students learning and improving service user involvement in service provision.
How to book
Before booking please check with your Line Manager/Workforce Development team to ensure that your application follows any local policy and procedures.
Book a place on the event via the website
Email your preferred choice of presentation A or B to Edward.robson@york.ac.uk
Please also let us know if you would be interested in facilitating a small discussion group on the day.
Delivery Method
This session will be delivered virtually via Zoom.  Participants who have booked will be sent the event link during the week before the session.
The day will include presentations by people with lived experience but will also feature small and large group discussions on various topics.